So, I am at the Chicago Auto Show with a buddy and we pass the UBER booth.   He says, "What's UBER?"  I say,  "It's the future buddy. Asset Sharing, Gig economy",  and I explain what is UBER.   He says, "Wanna try it?" and I say "SURE!".  Three weeks later, we are both driving UBER and sharing stories.
I tried recording my mileage in a book and transferring it to a spreadsheet.  TOO HARD!  Next, I downloaded about 10 different apps for my iPhone and tried them all.  None of them met my needs, so I said to myself,  "Hey, I can do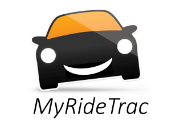 this better!"  I started on the design of MyRideTrac the next day.   About 120 days later and 53 versions of the app, I rolled out MyRideTrac on iTunes.   Six months later, MyRideTrac for Android was rolled out on Google Play.
The app has been downloaded in over 60 countries and has been installed about 15,000 times so far.  It's not paying the bills, but it has been a great learning experience.   I still drive UBER every week to test the app.   Besides knowing my app works, I still enjoy meeting interesting people on my journeys.  Every trip is an adventure!